A door with two identical windows on either side, that's a boutique. For our three founders who were experts on Art History , it's also a diptych, which in French is spelled 'diptyque'.
The very first shop, located at 34 Boulevard Saint-Germain in Paris, opens onto the street like a two-part Italian Renaissance or Flemish master's painting. They had found the ideal stage for their chic little bazaar of fascinating finds as well as the perfect name for it; diptyque.
...
It's tricky to spell, because the i and the y are cheeky letters. Mistakes were so common in the beginning that the Maison had to list it under both spellings in the phone book. diptyque has such a refined ring to it, and in every language it is chic, eclectic, poetic, esthetic and graphic.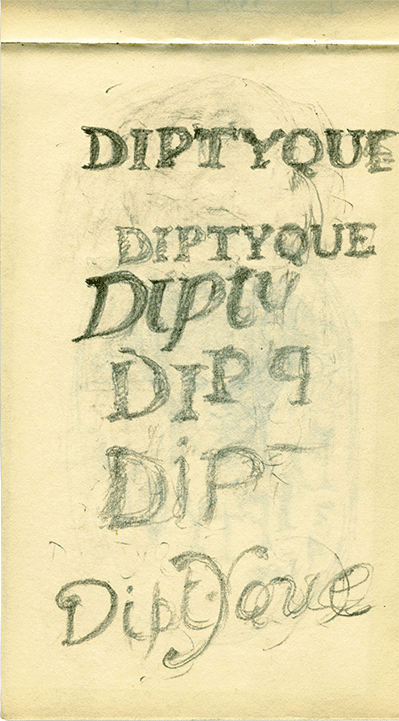 the spirit
and
the lettering
A name that's written like the structure of an ancient temple. As you get closer, the disorderly lettering is a slight twist on the traditional, adding a whimsical touch. At first glance, it's clearly diptyque. The logo is the work of Desmond Knox-Leet.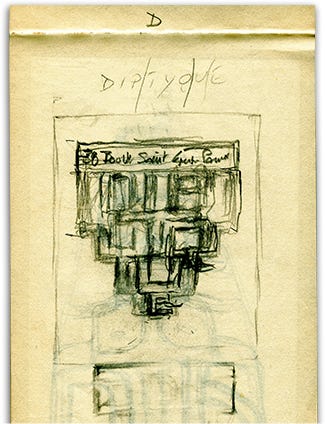 His passion for calligraphy shows in his India Ink strokes. DIPTYQUE. He says it with straight-lined simplicity, but as if he is stumbling, with disorderly lettering. Nothing is more charming than imperfection, similar to an accidental hiccup. There's no need to decipher the word, the minute you arrive, the message is clear, in black and white.
The oval logo is deeply rooted in diptyque's story. The thread of inspiration runs from ancient Rome to the fabric designs created during the early days of the diptyque adventure.
One of the first diptyque fabric designs was inspired by the elongated shield of a Pretorian Guard. Far from being warriors, the founders were simply fans of ancient culture and converted the shield into a clever vignette. In the heart of the oval, their coat of arms takes the shape of an incense burner, symbolizing their new profession: perfumer.
OUR FOUNDERS
an artistic
team
The secret to our singularity is the distinct chemistry between three unique individuals: Christiane Montadre-Gautrot, Yves Coueslant and Desmond Knox-Leet. When they met, it sparked a chain of creativity, that continues to resonate today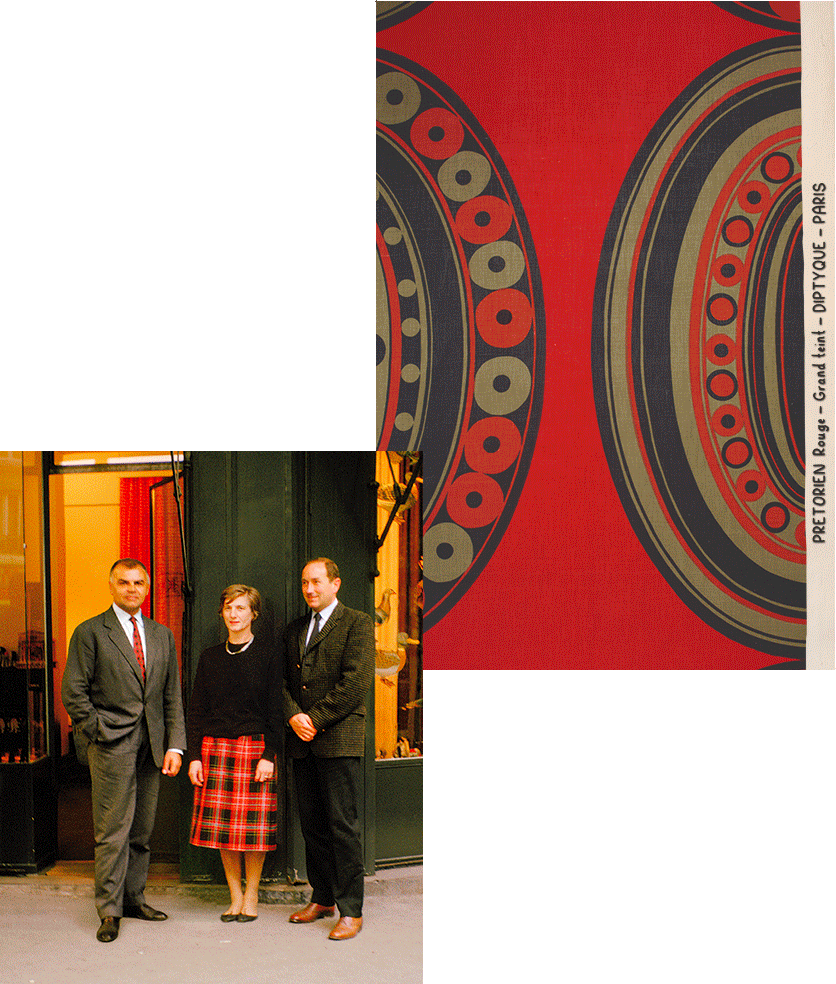 They met through friends of friends. Christiane graduated from l'Ecole des Arts Décoratifs, Desmond was a painter. Together they designed fabric and wallpaper for ultra-chic British Maisons. Then, some other friends introduced them to Yves Coueslant, who had escaped an unlikely career in banking to follow his heart and work… in theatre . The three friends quickly became inseparable. In 1961, they opened an unusual boutique with a daring plan: listen to their intuition and only do what they love. Nothing dampened their friendship as their business grew, and diptyque spread the creations born of this incomparable friendship all around the world.