About
the candle
Here are some tips that will help you make the most out of your candle in the best conditions.
The product of
luxury craftsmanship
Fine, rare or precious, the raw materials are selected with care. Each candle requires meticulous work to find a balance between the perfume concentrate, the blend of waxes and the wick, all to ensure optimal burning. Making the candles takes two days and involves eight processes, the majority of which are still done exclusively by hand.
How do I take care of my diptyque candle?
Step 1
Using your candle properly
When using the candle for the first time, leave it to burn for 2 or 3 hours, until all the wax has become liquid on the surface. This will prevent the wax from becoming hollow later on or forming a well around the wick.

Never leave a lit candle unattended and never let it burn for more than four hours at a time. Do not move your candle when lit or when the wax is still liquid.
Never place a lit candle in a draught, nor in direct contact with a precious surface. It should be placed on a flat, heat-resistant surface.

To extinguish the candle, it is recommended you use a lid or snuffer to avoid smoke and any splashing of liquid wax.

Keep the candle out of reach of children and pets.
Step 2
Taking care of the wick
Be sure to centre the wick in the wax after each use for consistent consumption of the wax. This will also ensure the glass does not overheat. The wick and flame should not touch the container.

Finally, regularly cut the wick with the wick trimmer (ideal length 3-5 mm) to prevent the candle from emitting smoke and the wick falling into the wax, rendering the candle unusable.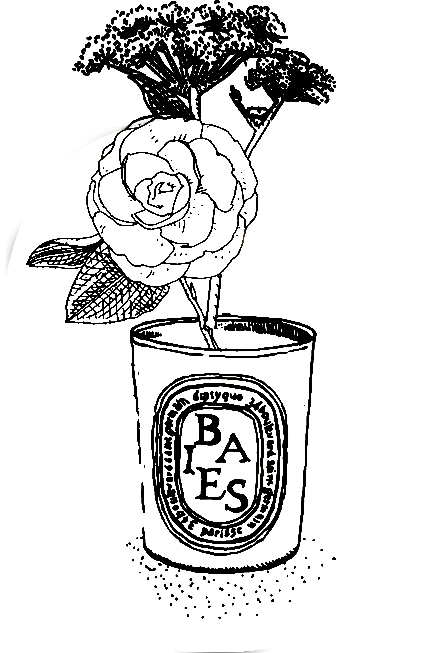 Step 3
Recycling your candle
A candle is finished, and should not be relit, when only 5 mm of wax remains or the metal wick sustainer becomes visible.

This is when the second life of the candle begins: the glass containers can be kept and used as you see fit, as bud vases, brush or pencil pots, tealight holders, etc.
How long will
my candle burn for?
Extra Large Scented Candles

120 hours

Large Scented Candles 600 g

90 hours

Large Scented Candles 300 g

75 hours

Classic Scented Candles



50 hours

Small Scented Candles



20 hours